The beginning of the month brought a Puerto Rican parade to Williamsburg, which marched along the street known by the combined name of Graham Ave-Puerto Rico Avenue.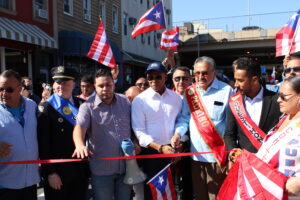 Inclement weather forced the parade, originally scheduled for Sunday, September 10, to be rescheduled for October 1. The excitement and joy was contagious as neighbors and guests shared their enthusiasm with those who attended it.

HITN's President and CEO, Michael D. Nieves was named the Godfather 'Padrino' of the event and marched alongside New York City Mayor Eric Adams, and Brooklyn Borough President Antonio Reynoso, among other guests.
A contingent made up of HITN team members also marched during the event to highlight the festive spirit that prevails during Hispanic Heritage Month.
The march also reaffirmed the Hispanic presence in this section of Brooklyn and demonstrated solidarity, both as a symbol of unity and presence.