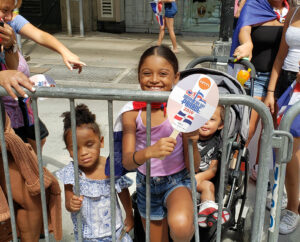 This year HITN proudly joined thousands of Dominicans to celebrate their heritage in the 37th Annual Dominican Day Parade. Families came out representing their culture dressed in their national flag colors of red, white, and blue.
The parade's theme this year was "Our Youth, Our Future" in which they honored many trailblazers who have contributed to the Latino community through art, education, and leadership.
Talented artists such as Charytin Goyco, Emilio Sosa, and Felipe Lopez made appearances and took part in celebrating their culture by taking on the traditional roles of Godmother, Godfather, and Native Chief.
HITN staff was on hand to pass out premiums such as HITN hand fans during the festivities.